Running batch operation for assembly
---
Batch+ can be run directly within assembly environment.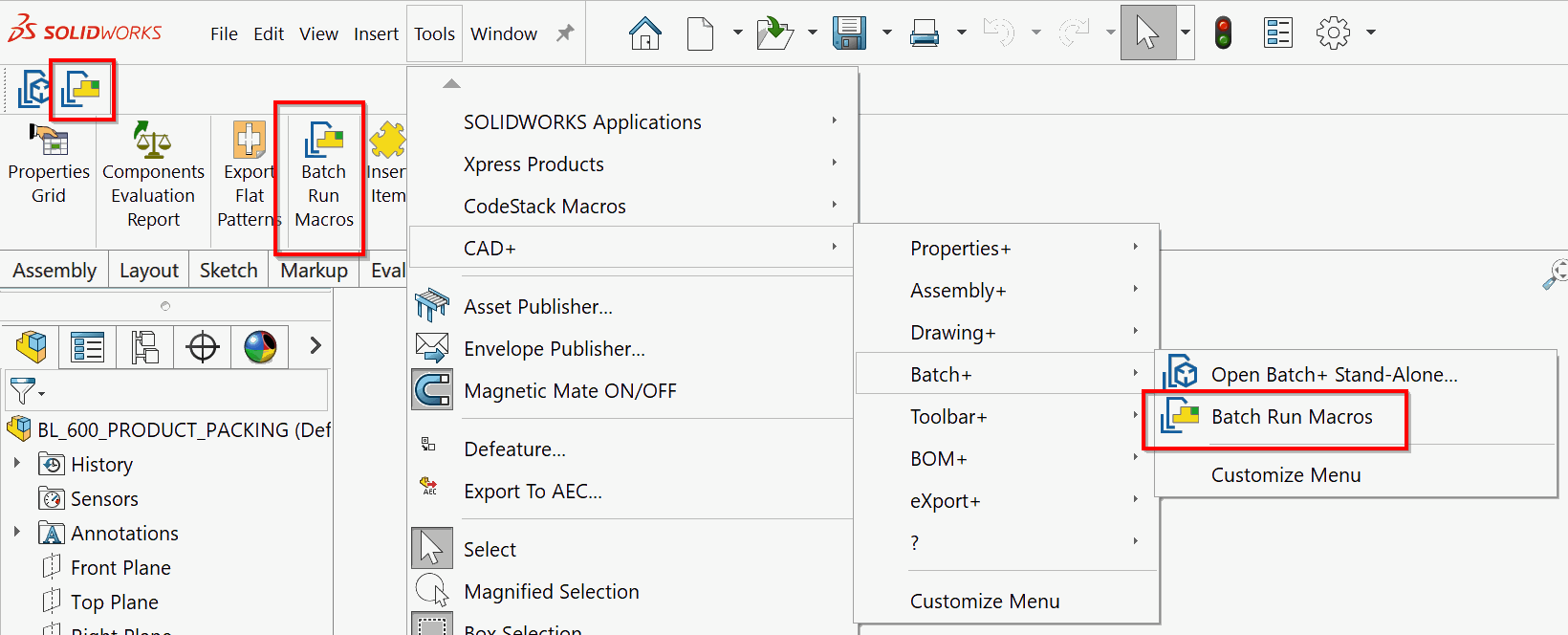 In this case custom macro can be run on the selected components or all referenced documents.
Option to process All Components, Top Level Components or Selected Components
Components to run the macro on if Selected Components option is selected
Option to activate all configuration to run the macro
Option to enable/disable the macro
Macro to run
Optional macro arguments. Specify the arguments in the command line format if macro supports ones. Follow Macro+ article of the instructions of how to use macro arguments.
Button to add macros to the scope
Specifies if documents needs to be activated (opened in their own windows). If this option is not selected macro will be run on invisible models. Read Model pointer in invisible mode for more information.
Option to specify if unloaded documents can be opened read-only. This option will only apply to the documents not currently loaded in SOLIDWORKS (or as a part of assembly components), such as suppressed components, lightweight components or components of the assembly opened in the Large Design Review mode
Option allows to specify if components can be opened in the rapid mode (Large Design Review for assemblies or Detailing mode for drawings)
Option to automatically save files
Option to suppress all popup messages
Option allows to additionally include drawings referenced by the components of the assembly. This provides similar functionality of Extract References
Order by Dependencies option allows to order the input references based on the dependency (from children to parents or vice-versa). Refer Order By Dependencies article for more information.
Start the batch process
Cancel the batch process
Processing All Or Top Level Components
If All Components or Top Level Components option is selected for the filter, user can specify what type of components should be processed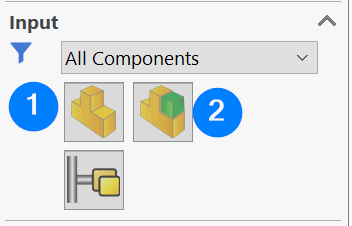 Option to check/uncheck all part documents in current selection
Option to check/uncheck all assembly documents in current selection
Running The Batch process
Progress of the batch operation is reported in the progress bar in SOLIDWORKS icon. And the currently processed file is displayed in the status bar.
After completion the report, summary and log page is displayed.