eXport+ | Stand-Alone Batch Exporter Utility
---
eXport+ module is a stand-alone (.exe) application which is utilizing SOLIDWORKS eDrawings to publish the files to a list of formats.
It is required to have eDrawings Viewer installed to use the tool, but it is not required to have SOLIDWORKS application installed. Download eDrawings by following the link
Currently eXport+ only works with eDrawings 2020
The following output formats are supported:
eDrawings Files (*.eprt, *.easm, *.edrw)
eDrawings Zip Files (*.zip)
eDrawings Executable Files (*.exe)
eDrawings Web Html Files (*.html)
eDrawings ActiveX Html Files (*.htm)
Stereolithography Files (*.stl)
Bitmap Files (*.bmp)
TIFF Image Files (*.tif)
JPEG Image Files (*.jpg)
PNG Image Files (*.png)
GIF Image Files (*.gif)
PDF Files (*.pdf). This option is currently EXPERIMENTAL. This option is not stable. Refer issues #12 - PDF output is not consistent and #15 - PDF export is corrupt\zero size
Video Demonstration
Notes
eXport+ will automatically hide all the popup messages if any are shown thus allowing the automated exports without the need of user interventions.
eXport+ will process all sub-folders if folder(s) is specified as an input
Output files will be named after input files. If file already exists, index will be added to the file name, e.g. File (1).html, File (2).html
After installation of CAD+ Toolset, eXport+ application can be found in the Windows Start Menu.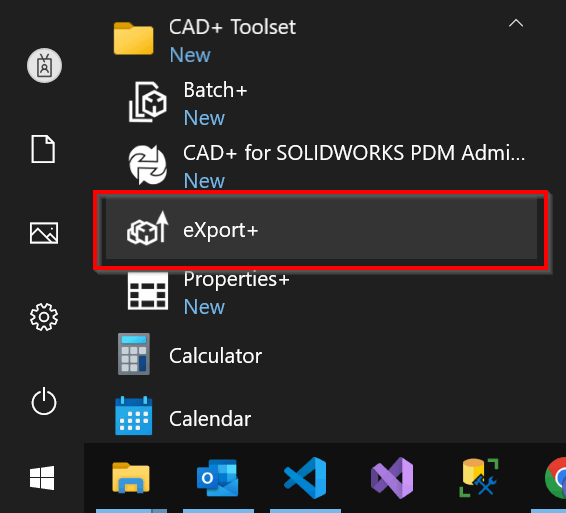 Application can also be started directly from SOLIDWORKS menu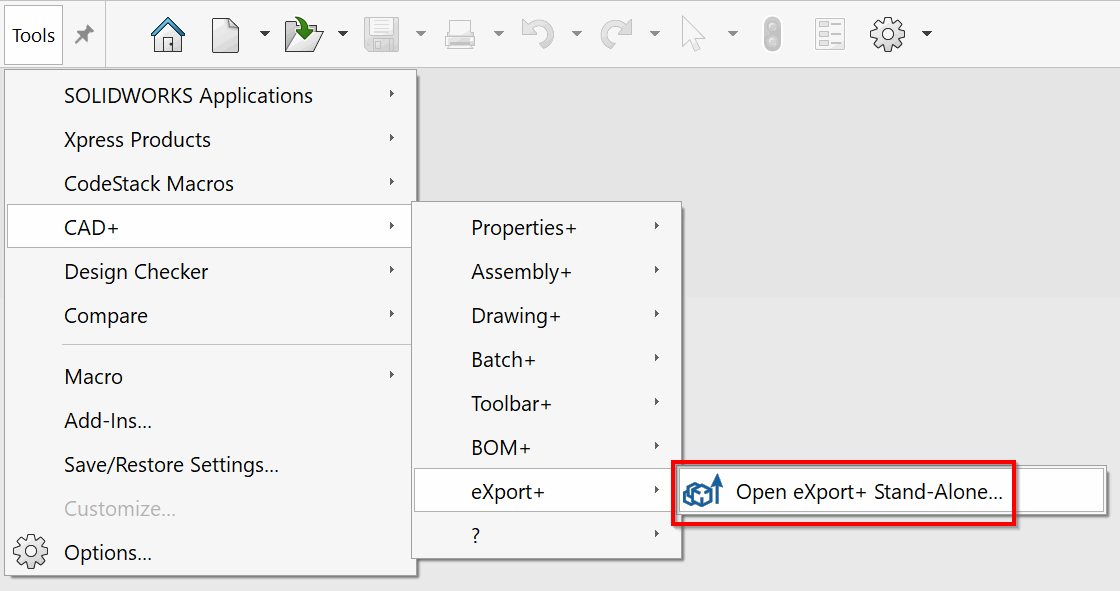 eXport+ provides user interface and command line interface for configuring the publishing job.