Managing SOLIDWORKS BOM using integrated BOM+
---
BOM+ functionality can be opened directly from SOLIDWORKS by invoking the corresponding command in the menu or toolbar
Viewing Bill Of Materials
Bill Of Materials table can be generated by clicking the View BOM command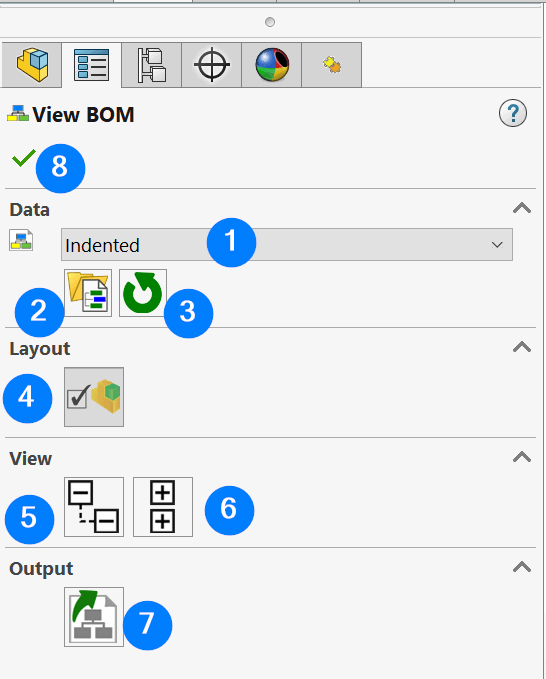 Bill Of Materials template drop-down
Open the BOM templates file location
Reload BOM templates if were modified
Expand all items in the BOM
Collapse all items in the BOM
Export current Bill of Materials to external file
Close Property Manager page
Non-Modeled Items
Non-modeled items can be inserted by clicking the Insert Item command from the menu or toolbar.

Items Library browser
Item configuration to insert
Item preview
Entity to attach item to
Option to overwrite the quantity of the item
Option to insert multiple items in a single operation
Entities list to select multi-items for
List of properties of the selected item and configuration
Insert items as per the specified settings
Close the page
Keep the page open after the insertion of the items
Items will not be inserted directly into the Feature Manager tree, rather will be available in the specific Items tab in the Feature Manager panel.
If item is associated with the SOLIDWORKS entity - it will be highlighted once item is selected.
Item can be edited, remove or suppressed.
Library
Items library can be accessed by clicking the Items Library Manager command.
Library will be displayed in the Task Pane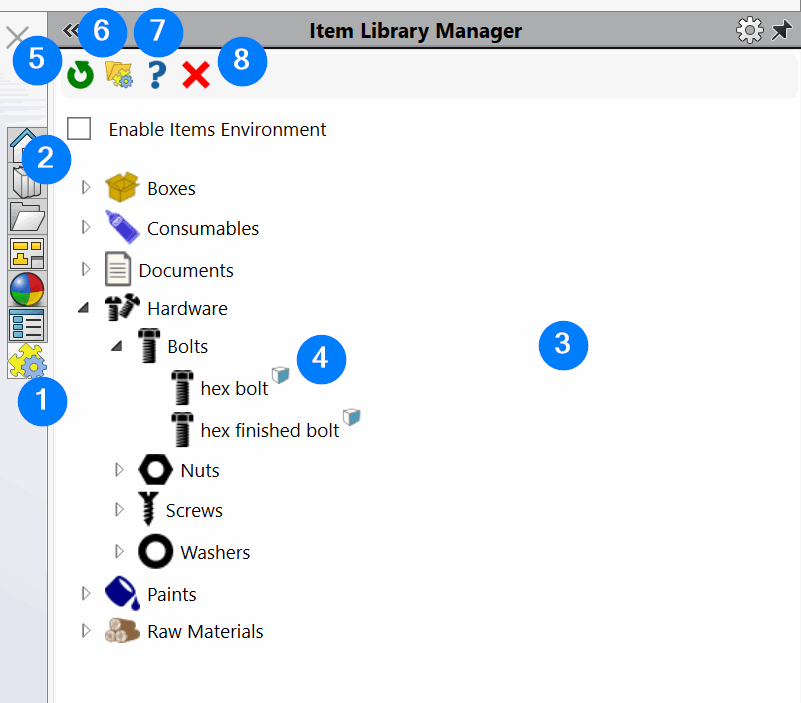 Task pane tab with items manager
Library of items
Reload library if was modified
Open the library folder in the Windows File Explorer
Open help page
Close the task panel panel